Amis du soir, bonsoir !
Ca fait quelques temps que je n'ai pas écrit de post fourni ici, et il y a quelque chose qui me traîne dans la tête depuis quelques semaines. Ca va encore trotter longtemps avant de devenir un réel projet car, bien que ce soit assez peu fricophage, ça demande beaucoup de temps. Ben oui, c'est du quasi-DIY : on achète les composants, le circuit, le microchip, on fait faire la boîboîte, on soude, on déssoude (enfin, ça m'arrive...), on ressoude, on peaufine...
Bref !
Vous avez sûrement entendu parler de Ucapps ? Je ne vais pas m'étendre en longues conjectures sur l'histoire du nordique qui est à la base de tout ça, il y a juste quelques petites choses à savoir.
1°) Midibox SEQ :
SEQ, comme séquenceur. A la façon d'un doepfer MAQ 16/3 ou d'un Manikin Schrittmacher, à ceci près que c'est bien moins cher, plus joli selon vos goûts et que vous pouvez avoir la chance d'avoir un séquenceur unique.
Qu'est-ce que la bête a dans le ventre ? Tout ça (pardon à ceux qui ne pratiquent pas l'anglais, mais vu la taille du pavé et l'heure, j'ai la flemme de traduire.) :

Feature list of MIDIbox SEQ V4:

optimized for live playing and editing
intuitive user interface with flat menu hierarchy, wide screen display (2 * 2x40 = 160 characters) and 16+1 rotary encoders with menu page dependent "soft function".
multiple MIDI Out ports (up to 10) for reduced MIDI latency
2 MIDI In ports (e.g. for separated MIDI clock and MIDI keyboard input)
USB interface which supports USB MIDI protocol to send events more than 100 times faster
every parameter can be modified in realtime w/o affecting the sequencer timings
one sequencer pattern consists of 4 independent tracks
four patterns can be played at the same time -> makes 16 tracks
each track consists of up to 16 layers which can be assigned to various parameters (e.g. Note/Velcity/Gatelength/Chords/CC/PitchBender/Delay/Probability/Roll)
Transpose and Arpeggiator function
Force-to-Scale function with 166 predefined scales
Track directions: Forward/Backward/PingPong/Pendulum/Random Dir/Random Step
Track direction progressive parameters (Step Forward, Jump Back, Repeat, Interval, Skip, Repeat)
free adjustable clock divider for each track. Supported timebases 1..256, normal and tripled
available length for every track: 1-256 steps
with 384ppqn resolution, 256th notes can be played
loop point within track
step events can be triggered multiple times (up to 4 times per step) with a delay value of 1-31 to realize drumrolls, ratterbeats, flams...
8 trigger layers for Gate/Skip/Accent/Glide/Roll/Random Gate/Random Value/No Fx
various Groove styles (shuffle/inverted shuffle/...) + customizable Groove Templates (Delay/Length/Velocity)
Humanizer function (random modification of note/velocity/gatelength)
Pattern Morphing, controllable in 128 steps with a Modulation Wheel
Echo Fx with Repeat/Delay/Feedback/Note increment/Gatelength/Delay parameters
LFO Fx with different waveforms, synchronized period length, adjustable reset point, phase, OneShot mode. Assignable to Note/Velocity/Length/CC
Note Limiter Fx
Manual step triggering
Step and Realtime Record function
Copy/Paste/Clear function
Scroll and Step Move function
Random pattern generator
Undo function
parameters of multiple steps can be changed relatively and absolutely with a single rotary encoder
parameters of multiple tracks can be changed the same time with a single rotary encoder
Tracks and parameter layers can be muted
Accent/Slide/CC sequences
inbuilt MIDI mixer/controller with 128 free definable mixer maps
inbuilt MIDI router
virtual "Loopback port" for Master/Slave tracks
split function for Transposer/Arpeggiator
8 optional CV outputs and gates for analog gear
CV outputs can also be accessed from MIDI In (-> replaces a CV interface)
64 optional 1 mS drum trigger outputs
8*128 patterns are stored on SD Card
128 mixer maps are stored on SD Card
pattern sets can be looped and chained in song mode
phrase mode which allows to switch between the 16 predefined pattern sets (for fills/breaks/chorus, etc...)
pattern switching can be synchronized to the measure
MIDI Remote functions
2.5-300 BPM (MIDI clock master)
external sync (MIDI clock slave)
DIN sync output for controlling vintage sequencers
works with 16x MIDI clock resolution (384 ppqn)
several hardware options (e.g. a 64 Button/Duo-LED matrix)
details and demo samples in the User Manual
DIY ONLY!!! (commercial release neither planned, nor allowed!)
Moi qui me mas***bait sur un Manikin croisé sur le net ya pas si longtemps...
Côté look, ça peut donner ça :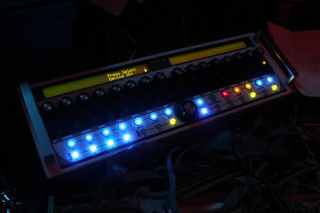 ... Ou ça :

La première est vraiment sexy... Ce mec, Artesia, fait en général de très belles créations et doit, je pense, avoir quelques compétences non-négligeables en design industriel.
2°) Midibox SID :

"- SID... Aaaah, tu parles de ces sons de gameboy merdiques qu'on croise dans 80% des prods glitch-gameboy-8bit de mes deux ?
- Mais oui !!!"
... Sauf que....
C'est gras, rond, chaud... Je ne sais pas comment Thorsten Klose s'y prend, mais il fait de la bonne came.
Et puis...
it features four different software based synthesizer engine implementations:

Lead Engine:

Mono or Legato Play Mode, optional SusKey portamento/glide control
8 modulation pathes with 24bit resolution. Each consists of two sources (e.g. ENV/LFO/MP Feedback/Wavetable/Constants), which can be combined with an operator (e.g. Add/Sub/Mul/XOR/AND/OR/Binary Operations/S&H/...) and routed to multiple modulation targets (e.g. Pitch/Pulsewidth/Filter/Volume/LFO Depth/Rate/Wavetable Position/CV outputs/...)
Stereo modulation of two SID chips (=2*3 oscillators assigned to two audio channels), controlled from a single core
2 DADDSRR envelopes sources with optional non-linear curve for Attack/Decay/Release. Positive/Negative (invertable) depth. Delayable. Different Loop Point configuration possible. Synchable to MIDI Clock. Retriggerable via Trigger Matrix.
6 LFOs sources with different waveforms. Freerunning or synched. LFO Cross- and MIDI-Synchronisation possible via Trigger Matrix. Optional oneshot mode. Delayable. Selectable Phase. Positive/Negative (invertable) depth. Depth and Rate can be modulated via Modulation Matrix.
6 independent Arpeggiators with various direction modes, variable octave range and gatelength. Optional oneshot mode and "constant cycle" time.
4 independent Wavetable Sequencers with access to a 128 step memory, assignable to different sound parameters (also usable as sequencer for complex arpeggiator textures). Loop or Oneshot function. Wavetable position can be modulated from any source (e.g. Key Number, Velocity, ModWheel, Envelope, LFO, ...) via Modulation matrix. Step position can be incremented/reset via Trigger Matrix.
Trigger matrix with various sources (e.g. Note/Envelope/LFO/MIDI Clock/...) and targets (e.g. OSC Gate/Envelope Attack and Release/LFO Restart/Wavetable Step and Restart/...)
Fine Tuning and Pitch Bender with configurable Pitch Range
Portamento/Glide function with different modes (logarithmic/constant time/Glissando)
Oscillator Phase Synchronization with selectable delay between oscillators
Detune function which affects all 6 oscillators (stereo configuration)) with a single parameter for fat sounds!
Lead engines, running on multiple cores, can be combined to a "superpoly mode"

Multi Engine:

polyphonic playing of two SID chips, and/or individual control of 2*3 SID oscillators
dynamic or explicit voice allocation assignments
6 instruments which can be assigned to different MIDI channels and/or keyboard split zones
two dedicated LFOs and one envelope for each voice, which can be assigned to Pitch/Pulsewidth and Filter CutOff with individual depths
6 independent Arpeggiators with various direction modes, variable octave range and gatelength
6 wavetable sequencers (an own for each voice)

Bassline Engine:

optimized for 303ish sounds with dedicated parameter set (easy to use for fast success)
two independent basslines are available for left/right SID audio channel
One master and two slave oscillators with different waveforms/octave transpose/sync/ringmod/static note/detune/variable phase offset!
supports direct MIDI control or internal sequencing
the basslines can be assigned to different MIDI channels and/or keyboard split zones
2 independent Arpeggiators with various direction modes, variable octave range and gatelength
8 sequences, directly controllable from MIDI keyboard or Control Surface
Sequencer controls Note/Octave/Accent/Slide/assignable sound parameter
external analog filters (e.g. Moog Ladder, SSM based, CEM based, original TB303 circuit, etc...) can be controlled from SW based envelopes and LFOs (-> F2A option)

Drum Engine:

optimized for C64ish drum sounds with dedicated parameter set (easy to use for fast success)
16 drum instruments with dynamic or explicit voice allocation assignments
20 different drum models with variable parameters (firmware allows to add more models in future)
Supports direct MIDI control or internal sequencing
8 sequences with 8 tracks, directly controllable from MIDI keyboard or Control Surface
Thanks to the generic concept, each engine supports in addition:
a consistent user interface
"ensembles" which store the MIDI/Clock/Instrument configuration of 4 MBSID cores
access to two SIDs per core
each core can handle any synth engine (selectable via patch configuration)
7*64k BankSticks can store 7*128 (=896) patches, independent from the used engines
one additional BankSticks used to store 128 ensembles
a global clock generator with 96ppqn resolution (master/slave) with selectable BPM (in master mode) which can synch Sequences, Arpeggiators, LFOs, Envelopes and trigger targets which are part of the Trigger Matrix
control of up to 8 external CV outputs (analog voltages with 12bit resolution) per core
control of up to 8 external digital switches per core
5 "knob" functions. Sources: MIDI/Control Surface/Analog Inputs (CV Inputs); Target of each knob: 2 of up to 256 sound parameters with configurable min/max range
Modulation Wheel/Velocity/Aftertouch/PitchBender Assignments
up to 256 parameters can be accessed via NRPN messages with full resolution
access to all parameters and patches via SysEx
non-destructive accesses to sound parameters (shadowed patches) from all control sources (e.g. Wavetable, Knobs, NRPN, CC, etc...)
filter calibration for each connected SID (allows you to equalize both types, 6581 and 8580/6582)
a random patch generator - not only for the whole patch, but also for individual parts

Special Features:

sophisticated control surface which is running on the master core
get control over up to 8 SID chips with 4 PIC18F4685 cores!
enjoy the extremely high update rate of 2 mS and modulation resolution of 24bit (C64 based solutions normaly support 20 mS and 8bit resolution, and can only control a single SID chip)
exploring new land by adding analog circuitry (Filters/Fx) and controlling it from the modulation matrix
control the internal sequencers from your MIDI keyboard - concept is focused on live jam sessions
listen to good old C64 tunes on original SID chips by using the ASID protocol (SidStation)
control your analog synths from the mighty sound engine!
Modular and complete PCB solutions available
extend the source code by individual features
a helpful DIY community

MIDIbox SID V2 in a MB-6582 case made by Wilba
This project is (like all other MIDIbox projects) licensed for personal non-commercial use only. All other rights are reserved. Please note, that this even includes the distribution over commercial channels like ebay - it is strictly forbidden without the permission of the copyright owners!

Celle du même Artesia dont je parlais tout à l'heure :
Encore une vidéo, pour la route :
3°) Midibox FM :
D'après ce que j'ai pu lire, celle-là se construit à partir d'un chip Yamaha qu'on peut trouver en désossant des vieilles SoundBlaster Pro des 90's.
C'est quoi alors ? Ben, un synthé FM... Et qui sonne !!!
Sons ici :
MBFM
... Page où on peut aussi trouver ces infos :
Sound Architecture

A single operator provides:

8 different waveforms
an adjustable output level with 6-bit resolution which affects the output amplitude (carrier) or the modulation index (modulator)
a frequency multiplier with 4-bit resolution
a simple envelope generator (ADSR), each parameter with 4-bit resolution. Sustain phase can be omitted
key scaling (0 db/oct, 1.5dB/oct, 3.0dB/oct, 6.0dB/oct)
envelope scaling (higher notes are shorter then lower notes)
Vibrato and Tremolo (fixed frequency)
Feedback with 3-bit resolution (only the first OP)
A single voice consists of 4 operators and provides:

only a single pitch for all 4 operators (frequency detuning between the operators of one voice not possible)
4 different OP connection modes (algorithms)
2 software implemented LFOs which can be assigned to the operator volumes and to the pitch
1 software implemented envelope generator which can be assigned to the operator volumes and to the pitch
A single instrument can control one or more voices (up to 6), it provides:

mono/legato/poly play mode
automatic voice assignment (longest note will be killed first)
adjustable pitch bender range and finetune
portamento (optionally with "Sus-Key" playing behaviour)
Velocity can be assigned to any CC sound parameter
Modulation Wheel can be assigned to any CC sound parameter
Aftertouch can be assigned to any CC sound parameter
A 32-step wavetable sequencer with up to 500 Hz play rate which can be assigned to 3 CC sound parameters
LFOs/EG5/WT sequencer can be synchronized to MIDI clock
A LFO provides:

5 waveforms
rate from 0.032 Hz to 45 Hz
key sync and start phase (0°-360°)
the LFO signal can control: the pitch depth of a voice, the four operator volumes, the frequency of the co-LFO, the amplitude of an AOUT (CV) output
separate depth parameters for all modulation targets
The EG5 provides:

an attack-decay1-decay2-sustain-release curve (7 parameters). Rates from 2 mS to 27 seconds
an assignable non-linear curve function for attack/decay/release
the EG5 signal can control: the pitch depth of a voice, the four operator volumes, the frequency of LFO1, the amplitude of a CV output
separate depth parameters for all modulation targets
The wavetable sequencer provides:

3 assignable CC parameters
32 steps
absolute (0-127) or relative (-64..63) control
3 play modes (note, note step, freerunning)
frequency rate from 2 Hz..500 Hz
An ensemble consists of 4 instruments and provides:

the patch and bank number (8 * 128 patches can be stored in 8 BankSticks)
a separate MIDI channel for each instrument
keyboard split zone
overall volume
velocity curve (Flat/Hard/Soft
Semitones Transpose function
Unisono function (allocates two detuned voices)
separate routing of the OP1/2 and OP3/4 outputs to the 4 audio channels
The separate percussion channel provides:

2-OP Bass Drum
1-OP Snare
1-OP Tom
1-OP HiHat (open and closed)
1-OP Cymbal
Adjustable frequencies (BD: independent, Tom/HiHat/Cymbal: coupled)
separate keyboard zones for each drum
Additional features

realtime editing of all sound parameters via CC, SysEx or control surface
control surface with 2x40 LCD, 5 rotary encoders, 24 buttons, 34 LEDs (see also the MIDIbox FM manual)
each BankStick can store 128 sound patches, 16 drumsets and 32 ensembles.
up to 8 BankSticks can be connected
8 optional CV outputs which can be assigned to the LFOs and EG5s for controlling analog filters, VCAs, effects, etc...

Sources de tout ça :
UCAPPS
---------------------------------------------------
Bien sûr, il en existe d'autres, mais ce sont les 3 modèles qui ont vraiment retenu mon attention et qui me semblent le plus utiles/pertinents/relativement abordables pour un non-bricoleur/FAT !!!/Peu cher/mettezcequevousvoulezici.
Ca va encore mettre de l'ordre, et surtout faire de la place dans mes priorités d'achat...
Ah pardon, j'ai aussi oublié de parler d'un contrôleur midi. Et d'un autre, avec faders motorisés. Et d'une TR-808 like (vraiment "like", hein. A mon avis vaut mieux investir dans du software pour celle-là)... Et divers périphériques midi/CV/etc.
Plus ça va, plus ça me les casse de me dire que je vais faire des études ---> Ca devait être le projet à la base, quand j'ai quitté mes groupes, etc et décidé de passer un équivalent de bac.
L'année prochaine, je vais sans doute pointer à pôle-emploi, trouver une sorte de travail qui me permette de survivre, et un plein temps si j'ai de la chance. Je pourrai profiter de mon temps libre pour vraiment apprendre à coder sans culpabiliser de pas étudier la situation à Singapour où la "meth" chez les Blitzkrieg pendant la seconde guerre mondiale ; alors je me dis, pourquoi pas en plus me faire quelques petites bases en électronique ? J'y connais que dalle, ça fera un premier jet ; et vu comment ces bestioles sonnent... Je commence à douter de l'utilité d'un Virus chez moi... En fait, le seul VA qui garde de l'intérêt à mes yeux, c'est le Nord Modular. Parce que j'ai déjà eu un Nord Rack et que j'aime le son ; et parce que le côté modulaire est vraiment attirant.
Bref, je digresse, je digresse ! J'ai presque hâte de pouvoir acheter les composants et de me prendre la tête pendant toutes mes nuits devant une table avec un fer à souder et une perceuse. En plus, si je veux des conseils, j'aurai qu'à me baisser, je connais quelques bricoleurs 'achement doués.
Les midibox, vous connaissiez ? Connaissiez pas ? En projet ? Ou pas ?